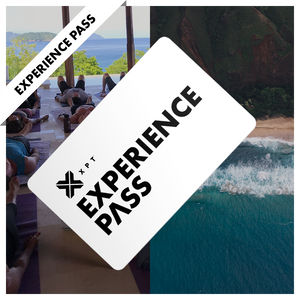 Join Laird Hamilton, Gabby Reece and the XPT Team on a three-day fitness adventure. Explore the complete XPT Breathe, Move, Recover curriculum through performance breathing, underwater workouts, gym training, nature workouts, ice-heat sessions, recovery work, advisor lectures, and XPT lifestyle education. Experience the ultimate lifestyle transformation.
The XPT Experience Pass gets you early access to reserve your spot for any upcoming 2024 Experience that has space available. Once an Experience is made public, you will have first dibs to join. By securing your Experience pass, you will guarantee yourself the price of $7000 for a single room or $12500 for a shared room. You will not be affected by any potential price increases. 

Selecting Room Type:

Are you joining us as a brave solo participant? If so, select "single room." You will have a beautiful room all to yourself. If you wish to stay in the same room as a friend, partner, or anyone who you've made arrangements to participate with, you may select "shared room." The full price of a shared room, $12500, reflects a $750 discount for each member of the room. 
REFUND POLICY
The Experience Pass retains the same policy of our Experiences.
Participants who make a deposit (total or half) are eligible for a full refund within 7 days of initial payment, as long as there are 30 days or more until the Experience begins. A refund will not be issued after 7 days of the marked payment date, or if there are 29 days or less until the start of the Experience. Full Payment is due 30 days prior to the Experience. If the customer misses the 7-day refund window, the customer has the opportunity to transfer their deposit (total of half) to a future XPT Experience occurring within 1 year, but will be assessed a $750 transfer fee. The customer is only eligible to transfer deposit to another Experience one (1) time. In all circumstances, transfer of deposit to another offered XPT Experience must be requested a minimum of 30 days before the Experience start date. No refunds or transfer can be accommodated if there are 30 days or less to the start of Experience. Included accommodations are not refundable or redeemable as credit.
XPT has always maintained a "No Refund" policy, as published publicly on our website under Terms and Conditions. Please note, XPT has the right to cancel an Experience due to weather, unavailability (sudden illness), pandemics, not enough attendees etc. In these cases you will be notified and given the option to choose any other experience within 1 year. We are committed to delivering equivalent value through postponed events. Thank you for understanding.