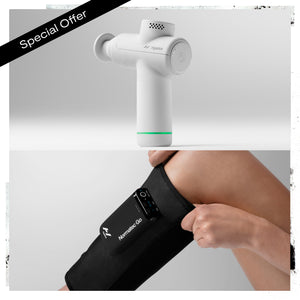 The ultimate on-the-go recovery tools available at an exclusive price to XPT Malibu Participants. This bundle includes the following:
Hypervolt Go 2 - The ultimate portable and mini massage gun. Lightweight, versatile, and sleekly designed, it offers relief on-the-go – massaging away stress and tension, loosening muscle knots, and targeting fatigue. It's more than just an ordinary massage gun – it's designed for go-getters like you to help you do what you love, more.
Normatec Go - The Normatec Go delivers targeted massage for fresh legs on-the-go. Backed by the same science that powers the original Normatec system, the Normatec Go is completely portable and delivers dynamic air compression to the calf muscles to increase circulation and reduce pain and tension in the legs.